"Escape to Pacific" – The Marine Wildlife Conservation Project aimed at exploring and observing the ocean in Melanesia.
Outcome
At least fifteen television and online documentaries (15 x 52′) and a feature documentary for distribution to cinemas from each archipelago.
Five seasons – on five archipelagos.
Format
Documentaries in 4K resolution
The exhibition, short films, photos, and presentations of the project through VR (Phototorealistic Virtual Reality via Oculus).
Location and Focus
We focus on monitoring the impacts of climate changes on marine life and ocean pollution. Currently, the world is experiencing the most significant loss of biodiversity on our planet. We plan to work together with conservation organizations, marine biologists, scientists to research and monitor these adverse effects on marine life and Nature on the remote Melanesia archipelagos (part of the Pacific).
We have divided this unique project into five seasons. Each of the seasons is focused on one archipelago. There will be three film episodes for television from each archipelago and one feature film at the end of the project.
Period Time
The project campaign will start in the summer of 2021
Filming period of five seasons – from the end of 2022 to the end of 2027
Papua New Guinea – First season (three episodes) … from 2022 to the end of 2023
Solomon Islands – Second season (three episodes) … from 2023 to the end of 2024
Vanuatu – Third season (three episodes) … from 2024 to the end of 2025
New Caledonia – Fourth season (three episodes) … from 2025 to the end of 2026
Fiji – Fifth season (three episodes) … from 2026 to the end of 2027
Project Goal
We are currently experiencing the most significant loss of biodiversity on our planet. There is not much time left for change, and there is a need to intervene politically, economically, and ecologically on a global scale. Therefore, it is time for each of us to make a crucial decision on how to contribute to and support the increase in climate literacy and raise awareness of the effects of climate change among people of all generations. Our unique documentary series will focus on our civilization's actions that significantly impact marine life and ocean pollution.
Our goal is to support changes in people's attitudes and behavior, especially during the filming of our planet's true beauty. We will contribute to the protection of our oceans, coral reefs, and marine life through our movies and stories. Our project will be supported by well-known personalities, who will be our guests.
The Pitch – for downloading:
PITCH_EscapeToPacific_Keynote_HQ

Partnership
With over a decade of experience in documentaries' production for TV broadcasting, we are now in an ideal position to embark on this challenging project. We are experts in filming underwater and using drones for aerial filming. Our work has been recognized with over 90 awards at international film festivals in Europe and the USA.
We will film and live aboard the catamaran, where we will spend at least eight months a year. This way, we will have a better chance to capture a time-lapse on specific destinations and observe changes in the environment and behavior of animals throughout the year.
Throughout the filming, one or two of the cabins of the Lagoon 55 catamaran will be available for people/investors interested in personal participation in the project: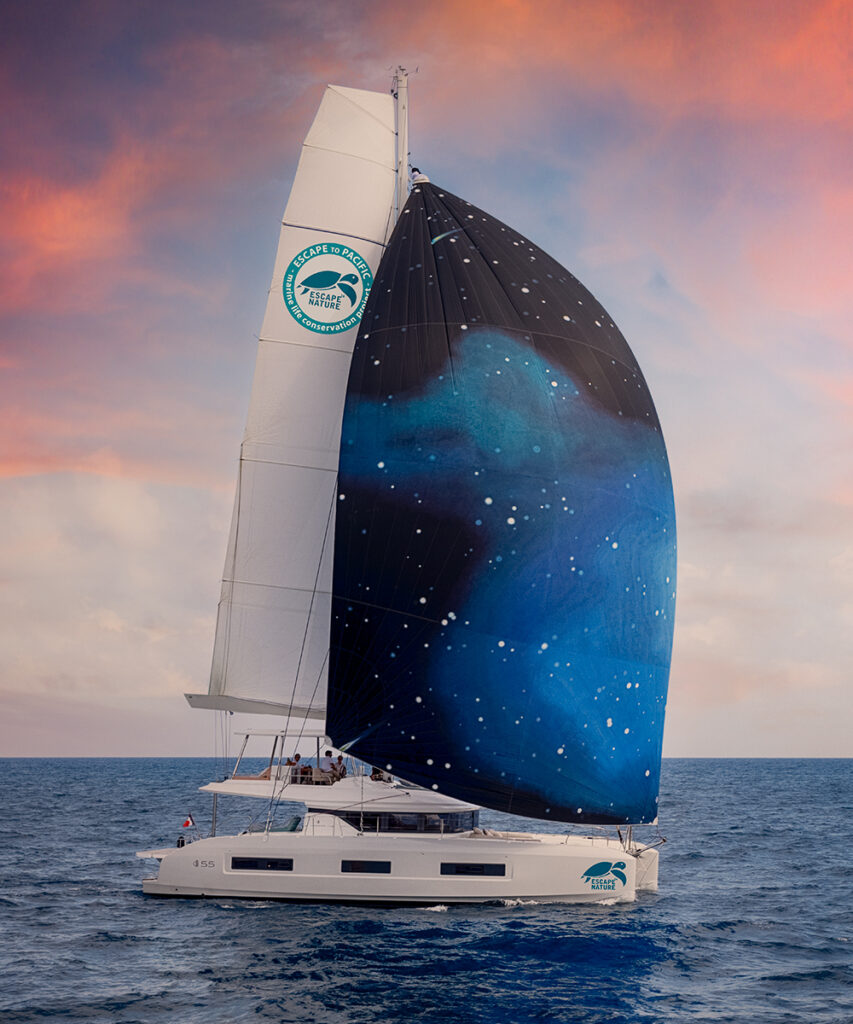 Follow us aboard
Escape to Nature is an independent film and photography production that ensures all film making and production costs from its resources. However, there is a co-production with TV Channels. Therefore, most of the budget is still dependent on external sources and our partners, sponsors, and investors' support.
The longstanding catamaran usage during shooting documentary films in exotic destinations (8 months a year) guarantees better quality shots for project parts, as it can provide accommodation and a safe base for the Escape to Nature team. Moreover, continuous stay on the catamaran of the whole team will allow us more flexibility of movement, self-sufficiency, and selection of locations for shooting according to our current needs.
We are gradually establishing contacts and cooperating with marine biologists and foundations to protect the oceans and underwater life in connection with our project.
We are honoured that Lagoon, a catamaran manufacturer, is one of the main partners. We will cooperate closely with Club Lagoon and its members on exciting events in the Pacific. The project and collaboration between Lagoon and Escape to Nature was officially unveiled at 8th September 2021 at the Cannes Yachting Festival – the largest boat fair in Europe.
Another important partner of our project is MARES, a producer of professional scuba gear who will support us throughout the project in the Pacific.
We continue on the long-term close cooperation with the Canon brand. We have been using photo cameras, film cameras, and lenses for more than 2 decades.
VR – Virtual Reality
We have established close cooperation with the Victoria VR team, which is one of the best in the world for processing and connecting physical reality, the Internet, virtual reality, and augmented reality – the so-called METAVERSE. We offer disabled people (children) and bedridden people to the underwater world and invite them to spend time with the film crew aboard a catamaran. We will deliver the possibility to have the most amazing experiences and feelings that they will be there with us through using the VR glasses (Oculus).
Join a long and exciting journey on the expedition catamaran in the Pacific with the new documentary series's creators. Enjoy the underwater world in untouched places and learn about its miraculous life. Learn from scientists how to protect the biggest world treasure – the ocean. Anywhere in the world, you can take on VR glasses and experience the learning adventure with us.
Investment Opportunity & Stay aboard the Catamaran – We offer many benefits to partners and sponsors of our upcoming Escape to Pacific project. You have the opportunity to support a unique and meaningful conservation project aimed at marine wildlife, coral reefs, and their monitoring. We will record the effects of climate change and ocean warming on the underwater world's quality and the ocean. Come and take part in the shooting in person, stay a few days on the catamaran with our team, and have a stable yield in euros for five years. Become an investor, project partner, or member of the Escape to Nature team at the same time. During the project, we will explore unknown places in this Pacific part of our planet.
Support the project – We look forward to future partners and sponsors interested in supporting this unique project to protect untouched Nature and Marine Wildlife. Send us an e-mail, click on the "Donations" page or support the Project in any amount right now by clicking on the banner below:
Independence during the coronavirus COVID-19 pandemic and other global health crises of our time – the important notice for partners and investors:
Our project is not and will not be endangered in the event of the continuation of the disease with coronavirus (Covid-19), as our team will move in isolation from civilization aboard our own catamaran. The catamaran will be equipped so that we are not dependent on a mooring in ports. The devices will produce our own energy using solar panels and generators. We will be independent and eliminating frequent marina stops to refill water tanks. We will produce clean, fresh drinking water from seawater. Watermaker desalination system uses to treat virtually any seawater source into fresh, safe water, which can be used for drinking, bathing, food preparation, deck and exterior wash-downs, and various other uses.
We will regularly provide images and short video clips for free use. This content will be shared free of charge with all partners, sponsors, and those who support us and contribute any amount as a donation to our project. In addition, we are preparing our own broadcast internet channel with a connection to social networks, where you will be able to get regularly the latest information from the filming with the possibility of participating in discussions.
You can also download PDF:
Escape2Pacific_ENG